Jul 10
1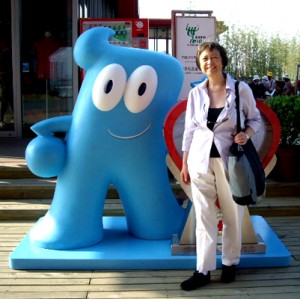 PHOTO: This photo was taken at the 2010 Shanghai Expo. Pictured with me is the Expo's mascot "Haibao" (literally "sea treasure"). It was created from the Chinese character meaning "people." This mascot implies mutual support and signifies how a beautiful life needs joint efforts.
— Blue color:  Implies inclusiveness and imagination, symbolizing China is full of hope and potential of development.
— Hair:  Resembling rolling waves, lively and distinct, explains the mascot's home and origin.
— Face:  Simplistic with a cartoon-like expression is friendly and confident.
— Eyes Big and round and shines with wide-eyed expectation.
— Body:  Round body, evoking beautiful feelings for harmonious life, cute and cuddly.
Fist:  Thumb raised to praise and welcome friends from all over the world.
Big feet:  Standing firmly on the ground and giving strong support to the outspread arms, which implies China's capability to hold this wonderful world exposition.
********
People often ask me how I plan for trips overseas that last for up to 2 months. Here are my 8 checklist items I do for every trip:
(Admittedly some information is from an American perspective as a U.S. citizen. For our international subscribers, please share your knowledge of how things work the same or differently in your country.)
1.  Create a travel folder. Put everything relevant to your trip in a folder, as you gather items. I like learning about the must-see historic places (museums, monuments), the best insider restaurants and bars, what holidays or special events may be happening while in town, whether there are any wineries nearby, and a bit about the history of the region, including forms of government and predominant religion. Most importantly, I look for information about local everyday practices to observe and display that will help me enjoy the visit like a local. It's all great airplane reading if I didn't get to it sooner.
2.  Research visa requirements. Investigate as far in advance as possible. I constantly hear stories about people who waited until the last minute before learning a visa was required and had to pay lots of money to have one expedited. Bookmark this site, which will show you every country's requirements:  http://travel.state.gov/travel/cis_pa_tw/cis/cis_4965.html
(For information on entry requirements for a specific country, please go to the Entry/Exit Requirements section in the Country Specific Information for the country in which you are interested. You may also contact the U.S. embassy or consulate of that country for further information.)
3.  Register yourself and the trip with the U.S. State Department. I first learned about this through the Protocol Association with which I am a member. I do it as soon as my itinerary is confirmed. As much as we all complain about "big brother" watching, when it comes to traveling to other countries, it has given me great comfort to know I am identified and what I must do to seek my government's help should a situation arise.
Bookmark this site, https://travelregistration.state.gov/ibrs/ui/, to register your trip and learn the answers to the questions of why register, how to register, and how the embassy or consulate will assist you while abroad.
4.  Confirm all arrangements. Confirm all details in writing with the in-country contact, travel agency, hotel, and the like. Print copies of all correspondence that includes contact names and numbers. Do not pack this information in your suitcase, in case your luggage is delayed. Keep it in your carry-on bag.
5.  Make copies of important documents. Create a document checklist and make copies of each document to place in each piece of luggage. Leave a complete set of all documents in a folder marked "Travel Documents" on your dining table or top of your desk. Give a copy to the person you have designated as your "back home" contact in case of emergencies:
— Passport
— Personal contact information:
+ Full legal and nickname, home address, all telephone numbers
+ Other immediate family members who are in the same household, such as children and roommates
+ Place of employment, contact name, address, telephone number and email addresses
— Emergency contact: The person back home to reach, including name, home and office address,
all telephone numbers and email addresses.
— Travel Insurance
— Medical information:
+ Medical and health insurance company, including policy number and telephone number. Learn what your
policy will cover or will not cover when traveling outside your home country.
+ Primary care and specialized doctor names, addresses, all telephone numbers, and email addresses.
+ Medications: List all prescribed medications. I also include vitamins and supplements.
+ Allergies: Whatever you are allergic to, list them. I'm allergic to cats, avocados, most shellfish, most
fish, and most nuts.
+ Immunizations: Usually Immunization Cards are provided when you get shots. Take the cards with you
and have copies made as well.
+ Death instructions: List basic Living Will instructions, designated funeral home information, and the like.
— Complete Itinerary: A complete listing of all flights and hotel information for the entire trip.
Honestly, this may look like a great deal of work, yet if you take the time to do this once, it will be done forever… until updates are required.
6.  Figure out in-country transportation in advance. During the planning process, decide by what methods you will be traveling from place to place, whether by private car, taxi, or by what kind of local public transportation. Nowadays you can download maps that clearly show how to get from one place to the other. Especially in London, Paris, Mazatlan, Puerto Vallarta, and Beijing, it is convenient and safe to use public transportation to many locations.
For arrival at the airport, compare the rates for hiring a car or taking a taxi to your hotel upon arrival, especially when arriving after dark. You may be surprised to learn a hired car may be less expensive than a taxi. There is nothing worse than to be scrambling for a taxi and dealing with luggage when you are exhausted. By hiring the car, they will pick you up, take care of carrying your luggage, and know how to get you to the hotel without getting lost.
When traveling by taxi, always have the name of the hotel or location, street address, driving directions, and most importantly the telephone number of the place (contact person) for the driver, written in their native language.
7.  Use hotel ID cards. Upon check-in at your hotel, ask the front desk for a few hotel cards. These cards have their full contact information written in the native language. Some even have a small map on the back to help a driver get you back home safely. As it is said: "Never leave home without it" (meaning the hotel card). Keep two or three cards with you at all times. If a driver doesn't give one back to you, you'll have spares for other trips, without having to hit the front desk each time it happens, or forget and get stuck. That happened to me… only once.
8.  Pack standard items for every trip: My international trips have been from 4 days to two months. Regardless of the duration of the trip or whether I am visiting for pleasure or business, here are the standard items I have for every trip:
— Put together a standard medical pouch once and you'll have it for all future trips. I leave mine in the suitcase between trips. In this pouch I have cold remedies; extra vitamin C tablets; dental floss; Listerine packets; Tylenol, Advil, and aspirin; diarrhea pills (Imodium and Pepto Bismol); rubbing alcohol for sanitizing wounds; two sizes of Band-Aids; lint remover; small bottle of hand sanitizer and packets (Purell); a small sewing kit including scissors, nail clip, nail file, safety pins, insect repellent and hydrocortisone; small tube of Wine Out (in case of a spill); travel packets of sunscreen; dry eye drops; shoe shine buffer; and most of all, my Chinese Po Chi Yun pills for when I get an upset stomach from eating certain foods that are too rich for me. Whatever is important to you, this is where you keep them.
— An all-weather coat with a hood in case it rains, plus an umbrella when rain is more certain. On my last trip to China in May the weather was uncertain, and it did rain on a couple of days.
— A solid color, wide and long shawl to wear in lieu of a jacket or coat in the day or evening.
— For planned or unexpected nicer evening activities, I always pack at least one dressy outfit. For men I recommend packing at least one sports jacket and slacks, with one or more shirts and ties, depending on the length of the trip. Beyond this, who cares if people see you wearing the same outfit more than once? For women, you can change looks with different accessories. Men can change their look with ties, a small item to pack.
— A pair of shorts and a swimsuit for possible hotel spa activities.
— Sun hat for prolonged outdoor activities and sunglasses.
— A small flask of brandy to enjoy in the privacy of your room on certain nights.
Bonus: Pack a few small gifts of appreciation. For certain special people and services provided, small gifts from your country of origin is often more meaningful than any monetary gratuity… which in some countries and situations is not appropriate. One of my favorite gifts is a small box of See's Candy, from an old-time San Francisco company.
QUESTION OF THE MONTH:  What are some of your standard checklist items when traveling internationally—no matter where you live in the world. I am most curious to learn if there are certain practices a person must/should do in other countries before traveling abroad. Post your comments below.
Happy Practicing!