Feb 11
17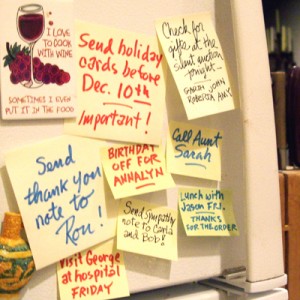 In all cultures around the world there are times of the year to show our love and appreciation to those who touch our lives, including our parents, family, friends, neighbors, clients, customers, staff, suppliers, vendors, colleagues, associates, and the list goes on. However, you need not wait until a special day to show your appreciation for a job well done or your gratitude for a special favor.  While there are infinite ways to show appreciation, here are eight ideas to consider:
1. Holiday Cards: This is the most popular way we share our greetings during any holiday season, yet many people send a pre-printed signature card without writing at least a little personal note. No one likes receiving generic cards. Write a small note.
2. Personal Notes: A personal, handwritten note truly shows your love, whether you write it on a holiday greeting card or any piece of paper. The point is that you took the time to write. A personal note is especially valuable if your company discourages gift giving. A note can say volumes, all by itself.
3. Gifts and gift cards: If giving a gift for any occasion take the time to choose a gift you know the person will like. Don't wait until the last minute to purchase it under stress. Instead, buy gifts throughout the year, whenever you see something you think a particular person will appreciate. For gift cards, find out which store the person likes best, and buy your card there.
NOTE: Be careful when purchasing gift cards that the store or company will be in business for the next year.
4. Meals and special events: One of my favorite ways to show appreciation is to invite someone to my home or out to a restaurant for a meal. I also enjoy inviting people to be my guest at a special event. It's a great way to spend time together and support an event. The key is sharing time together.
5. Days off: Some companies give their staff a week or two off for vacation.  Some the entire week between Christmas and the New Year off. Others give employees their birthday off. Have fun thinking up a surprise day off for your company.
6. Money: In the Asian culture the most popular way of giving gifts is in red envelopes for all sorts of occasions.  In the western culture, year-end and holiday bonuses are more typical.
7. Trips: Based on achieving company goals each year, one company I know treats the entire staff to a one-week, all expenses paid trip to Hawaii. Although definitely extravagant, perhaps other trips can be something to consider.
8. Telephone calls and personal visits: We all love receiving telephone calls from friends with whom we haven't connected in a while. Reconnect with loved ones, especially the elderly, who may be living alone or in a rest home.
Most of all don't wait for a special holiday to do any of the above. Set your own plan of action to show appreciation and gratitude anytime throughout the year.
Enjoy…  and Happy Practicing!