Apr 12
1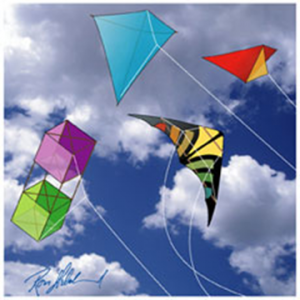 Although I think of the month of April as being the month for April showers, did you know that National Kite Flying Month runs from the 31st of March to the 30th of April?   So let's celebrate… and may I say with all good intentions… Go fly a kite!
When was the last time—if ever—you flew a kite? Take time this month to enjoy a timeless activity with family and friends of any age. These eight  guidelines will make it more enjoyable for you and others.
1.  Learn how it works before venturing out. Flying a kite requires responsibility. It's just like taking golf lessons when you get your first set of clubs. Here's how to get started: "How to Fly a Kite
2.  Be aware of your surroundings. Many sports kites can fly as fast as 100 miles an hour and cause great harm. If you choose to fly this kind of kite, never dive or swoop over the heads of nearby people or animals, or over buildings.
3.  Understand who's in control. It won't be you. Unpredictable wind gusts or a broken kite will cause your kite to fly out of your control. If this happens, yell to warn anyone in potential danger.
4.  Stay away from other kite flyers. Keep your hands, feet, children, and pets off other people's kites, lines, and other equipment.
5.  Keep lines separate. Do not fly your kite close enough to collide, tangle with, or cut other people's kite lines. Even if you'd like to do so in fun, it's not funny.
6.  Know your place. Keep away from areas where advanced or professionals fly their kites. Plenty of other grassy fields and beach exist for a hobbyist.
7.  Pick up your mess. Clean up any debris resulting from kite flying or eating.
8.  Have fun!
Question:  What other items do you have to add to this list?  Do let us hear from you by locating this article at www.AdvancedEtiquette.com/blog.  You may also reach us at www.AdvancedEtiquette.com.  If you enjoyed this article and want more, subscribe to our "Etiquette Tip of the Month" newsletter—at no charge—filled with great monthly tips on all sorts of topics from international business and social etiquette and protocol to everyday life subjects.  It will be great to have you as a member of our happy family of subscribers at www.AdvancedEtiquette.com/subscribe.
Happy Practicing!