Jun 12
1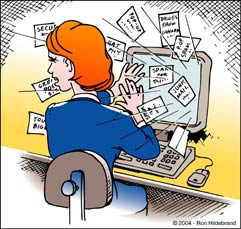 "Laws come into effect, when etiquette fails" is a most appropriate comment by etiquette maven Judith Martin.  Her point fits well with how we have had to pass laws governing the use of the Internet in marketing and advertising and telephone and cell phone solicitations.  Although time and laws have helped to reduce the offenses, yet I still get spammed regularly which has led to this article as a good reminder.
Business owners, companies, and consumers understand the value and importance of marketing as an integral component to gain visibility and sales for a company, product, or service. In the last decade the rapid boom of the Internet, easy access to broadcast e-mail, and other new technologies in global telecommunications has become an all-too tempting advertising medium. Low-cost use became abuse. Representative Heather Wilson (R-NM) stated it well when she said, "Today, it's a nightmare that threatens to overwhelm people's legitimate use of the Internet, all the technologies and filters have failed to keep our in-boxes free of junk."
Most companies want to properly use the Internet, telephone, and fax as legitimate methods for their sales and marketing strategy. People have wondered, however, what is proper and within etiquette? How do we weed out the good, bad, and ugly in unwanted solicitations?
At a convention in Orlando, Florida, in October 2003, the three leading advertising trade groups-the Direct Marketing Association, The American Association of Advertising Agencies, and The National Advertisers-agreed to the following guidelines for use of e-mail which is now standard practice.
E-Mail Advertising Guidelines
The subject line of an e-mail must be honest and not misleading. Senders should include a valid return e-mail address and physical address. Firms should also use their company or brand names in their domain address, and throughout the message. The e-mail should identify the sender and the subject at the beginning. All commercial e-mail should provide customers with a clear electronic option to opt out. And it must be easy to use. A company with multiple affiliates should offer notice and opt-out for each separate brand, or those that the consumer is likely to perceive. Firms should not acquire e-mail addresses surreptitiously through robots, spiders, and other automated mechanisms without the consumer's consent. Marketers are also prohibited from using the dictionary attacks or other mechanisms for fabrication e-mail addresses without providing notice and choice. Opt-out requests must be honored in a reliable and prompt way. "Remove means remove," the groups said.
E-mail lists should not be shared with third parties unless consumers have been given notice and choice. That restriction includes other brands and subsidiaries within the same parent company.
A commercial e-mail should contain the sender's privacy policy-in the body of the message or via a link.
Guidelines Become Law
These e-mail guidelines were then incorporated into Public Law No. 108-197, the S.877 CAN-SPAM Act of 2003 (Controlling the Assault of Non-Solicited Pornography And Marketing Act), as signed into law by President Bush in December 2003, and effective on January 1, 2004. This Act and all its associated bills are all part of the national effort to stop the proliferation of unwanted e-mails. As reported in the cover story of the January 27, 2004 issue of DMNews-the Online Newspaper of Record for Director Marketers-Microsoft Chairman Bill Gates is on record predicting, "Two years from now, spam will be solved." Believe me, this is one prediction the world hopes is right. For a Summary, Bill Text, and Current Status of this Act, see Spam Laws: The United States CAN-SPAM Act , also at http://www.spamlaws.com/spam-laws.html
Other national services are in place to help both businesses and consumers comply with the guidelines for telemarketing by telephone and fax too.
To eliminate unwanted telephone marketing calls: With your active e-mail address, take a few minutes to get yourself on the National Do Not Call Registry, online at http://donotcall.gov. For consumers without an e-mail address, you may call toll-free to 888-382-1222 (TTY 866-290-4236). Other information and questions may be found through the Federal Communications Commission, Consumer and Governmental Affairs Bureau, at http://www.fcc.gov/cgb/consumerfacts/tcpa.html or toll-free at 888-225-5322 (TTY 888-835-5322).
To view basic facts about telemarketing, a State of California site is also at http://www.dca.ca.gov/publications/telemarket.shtml , offers information on how to be a good telemarketer and to know as a consumer how the law is on your side. The site provides information on how to get off and stay off marketing lists; how-to protect yourself from being spammed; and how to know if you are being potentially ripped off by credit card, international investment, and lottery scams.
With this knowledge in hand, you may want to take time to adjust your marketing messages and clean-up your database by doing the following:
For businesses:
Review the items contained in the E-mail Advertising Guidelines and in the CAN-SPAM Act of 2003 to verify you are in full compliance with the information you tell and send consumers. Make the necessary adjustments to your web site, e-mail broadcasts, fax announcements, and telephone scripts to properly identify your business and to allow the receiver the choice to be removed from your contact list. Consider contacting your clients and customers, by sending an e-mail, fax, or postcard informing them you are updating your database and want their permission to continue receiving your information.  Then be sure to provide easy steps on how they can opt-out, if desired. When placing cold calls and other telemarketing calls, identify yourself at the onset of the call and how you got their name and contact information.  For example:  "I received your information because of your membership in the San Francisco Chamber of Commerce." Establish a system to keep track of individuals and companies who specifically request to be placed on a Do Not Call list-and do not call them again!
For consumers:
For telephone calls, create your own Do Not Call sheet listing the exact date and time of the call, the representative's and company's name with whom you've requested not to receive further calls. For e-mails and faxes, keep a separate folder in your computer or file to hold all the remove requests you've placed; and again refer to it each time the offense is repeated. Keep the list nearby whenever receiving calls, faxes, and e-mails.  Call attention to the companies by specific name, date, and time, repeating your adamant request to be placed on their Do Not Call list.  Remind them of your right to seek legal action against this company should the calls persist.  Nowadays most telephone systems include Caller I.D. as standard equipment. In most situations, where the caller has blocked their number from being viewed, it will automatically block that call from being connected at all.  Also, for those unsolicited numbers you see over and over again on your Caller I.D., take time to jot them down as well.  After three calls are noted, you will have the proof to report these calls as spam.
Following the law, following the E-mail Advertising Guidelines, and using professional business practices in all your marketing efforts-being honest, straight-forward, and genuine-will ensure you are performing appropriate marketing efforts rather than sending junk mail and spam destined for the delete box.
Question:  What other items do you have to add to this list?  Do let us hear from you by locating this article at www.AdvancedEtiquette.com/blog.  You may also reach us at www.AdvancedEtiquette.com.  If you enjoyed this article and want more, subscribe to our "Etiquette Tip of the Month" newsletter—at no charge—filled with great monthly tips on all sorts of topics from international business and social etiquette and protocol to everyday life subjects.  It will be great to have you as a member of our happy family of subscribers at www.AdvancedEtiquette.com/subscribe.
Happy Practicing!