Jun 13
1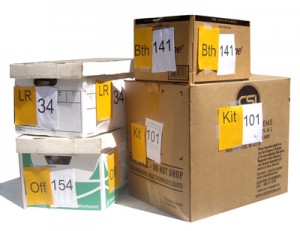 This month summer begins; school ends; and graduations and weddings take place. People take vacations; and people move their homes and offices.
Here in California, homes are selling at a record high not seen since 2008. Two of my good friends are moving, one to Hawaii and the other to New Jersey. Talking with them led me to choose this topic and to remember the many times I've moved. If a move is in store for you, these tips will help, whether moving a home or office:
Before the Move
1.Plan ahead. As soon as you know you are moving, get a notebook and calendar to begin listing all the items you need to do. This includes engaging a moving company, listing moving supplies to purchase, and making travel arrangements. Create due dates to handle tasks such as arranging for utilities, Internet, wireless, and other services that must be properly turned off and on at both locations. (Many services will not reserve dates more than 30 days in advance.) Most of all, confirm arrangements for the care of your pet(s) and children. Arrange to drop them off at a relative's or friend's place for the day or few days or pay to have your pet stay at a pet hotel until you are moved in. Your sanity will be most appreciated by all.
2. Mark each box with a number. Pre-print large numbers (at least 100 point type) on quarter- or half- sheets of paper to tape onto two sides of each box (wide and narrow). Doing so has several advantages: it keeps the boxes clean for future use; the sheets provide space to write extra info; and you can resell the boxes, as long as they are in good condition. Actually, I buy used boxes and donate them to a charity afterwards. Boxes are hard to keep in good condition after two uses. In our area they even deliver used boxes to your house!
3. Mark each box with a room location: This lets movers know exactly where to place boxes, instead of requiring you to tell them or later having to move them yourself.
For further efficiency, consider different colors of paper to tape to the boxes. Gold could be for rooms inside the house and green sheets to differentiate boxes for the BMT (Basement), GDN (Garden), and SHD (Storage Shed).  You may also use different color sheets for different rooms of the house… especially when movers do not read English.  This means all the boxes with blue signs go to the OFF (office), for example.
4. Make a list of each item in each box: It sounds tedious, but doing so eases the tension of not being able to fine something before you are ready to unpack the boxes. This list becomes your master list of boxes. Each household member makes his or her own master list for their boxes.
5. Don't skimp on packing tape and wrapping paper: I can't say enough how important it is to wrap your items carefully and well. Even when you are only moving a few blocks and will be driving the boxes yourself it's worth the effort. All it takes is one bump on the road or sudden stop to damage precious and breakable items.
For kitchen and dining room items, double tape the bottom of each box to prevent the bottom from splitting open.
6. Fragile items: Wrap fragile and breakable items well. Print a batch of red paper or red lettered FRAGILE signs to place on all four sides of these boxes. Pack all fragile items in separate boxes, if possible. Don't mix them up with other less fragile items.
 7. Be a good neighbor: Alert both your former and new neighbors of your move date at least a week in advance. Inform them whether you have to block their driveway or the street so you can coordinate access times or they can arrange for alternate parking. While packing and unpacking, try not to do it at odd hours of the day or night. Move big, major, noisy items during the day. Move light, smaller items during the odd hours, so you won't disturb the neighbors' sleep.
During the Move
8.  Get there early. Get to the new location ahead of the movers to post a location sign in front of each room for them to easily see where specific boxes are to be placed.
9.  Upon arrival: Brief all the movers on how your system of box placement works. Explain whether they may or may not walk through a neighbor's property as a short cut. Of course, you have arranged this with your neighbors in advance because you want to leave and arrive on the right foot with your neighbors.
10. Remain calm, stay out of the way, and be respectful and courteous with your movers. No one likes being micro-managed, yelled at, or to be the object of foul language. If you have followed the preceding tips, all you need to do is relax and stand around to "cater to the movers' every need" in case they need or ask for something.
11. Perform acts of kindness. Moving is strenuous, sweaty work. Provide bottles of water and perhaps a box of energy bars for the movers to enjoy throughout the move. At the end offer a final beverage. We not only had homemade lemonade, we also offered them a beer. For moves that take all day, movers should be allowed to use the bathroom facilities and to enjoy their lunch inside the house.  Providing lunch is optional.  All kindness shown, I assure you, will reap great rewards now and into eternity.
After the Move
12. Say thank-you. More than anything else, each mover deserves an oral thank you from all owners (husband and wife, business partners). For friends or relatives, a great way to thank them and celebrate the end of the day is to treat everyone to stay for dinner, either at a restaurant or carry-home meal. Later, send each person a handwritten thank you note. If you liked the job the company did, send a handwritten thank you note as well. You can also "Like" the company's Facebook page and write a testimonial on Yelp, or submit it to the company for its website.
13. Consider a tip for each worker. Ask the company how they handle tips. Some companies offer a package that includes tips. Otherwise, the industry standard is around 5% of the total bill or between $10 and $40 for each mover. It's up to you to gauge how involved each mover was and whether they performed their duties with an eager, positive attitude and demeanor.
We all know that moving can be stressful. By making a list, placing box numbers and location sheets on two sides of every box, the movers will be at ease and you will be at ease throughout the unpacking process, no matter how long it takes.
And now for a confession: There are nearly 75 boxes in the basement that my husband and I haven't opened yet. However, because they are all numbered and listed we have procrastinated and used them as our storage system, just as they are.  Guess what our summer project is?
Happy Practicing!