Feb 14
1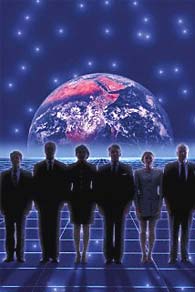 No matter where you live in the world, you can't escape the phrase "cultural awareness." We must all now possess it to succeed in life and business.
The days of living next door to, working with, and purchasing products and services from people who look and act like us are gone forever. Now we live in a world of multi-national, ethnic, and cultural diversity.
This month's tip shares two approaches, models, and concepts to help us open our eyes to the many innate biases and preconceived notions hidden in our subconscious. I know you'll benefit from learning about them, as I have:
1.     The Richard D. Lewis model and approach to global cultural awareness: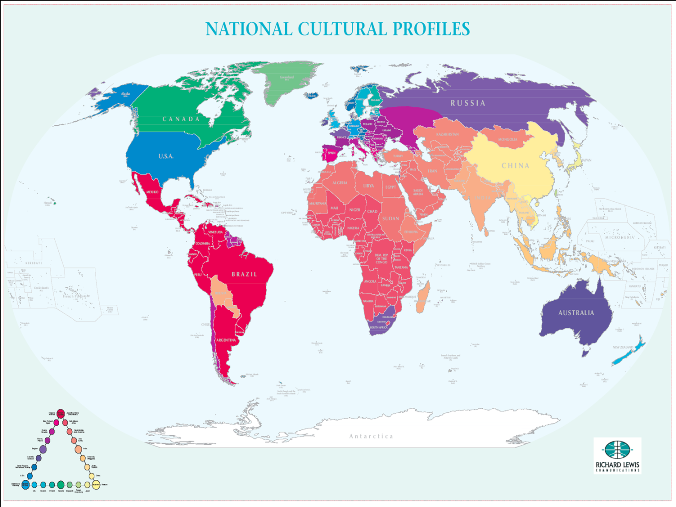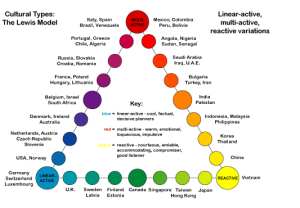 This example helps us learn how we feel comfortable when interacting with people from all over the world. Richard D. Lewis introduced it in his book When Cultures Collide, where he divides cultures into three main categories: multi-active, linear-active, and reactive. Many cultures are a mix, but tend to dominate in one or two categories.
To sum things up, the below chart describes the three categories.  Click on the image to view the words more clearly then choose the category that best describes who you are to match it up with the country triangle above.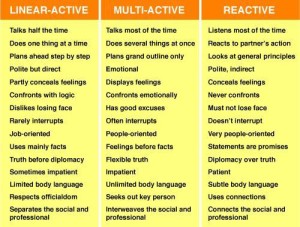 For complete details on the above triangle and three categories shown, see the below URL… http://www.crossculture.com/services/negotiating-across-cultures/.
Then, take a few minutes more to view a brief introduction slideshow (also at http://www.crossculture.com/rlcintro.html) to gain a better understanding of: What is Culture; the Layers of Culture; Cross-Cultural Misunderstanding; An explanation of Lewis's Model; and how to put it into practice.  It will definitely be worth your time as a great way to begin learning about his important topic.
2.     Deloitte White Paper "Uncovering Talent… A Model for Inclusion."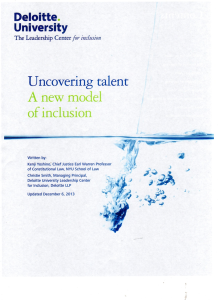 Thanks to Ascend Leadership and Deloitte, I attended an event last month where Christie Smith, one of the authors of this white paper, discussed her own struggle with inclusion and the significance of this study to her and anyone who works in an office with others. It is a report I strongly encourage you to read. To download your own copy, see www.deloitte.com/us/Uncovering with the download link at the top of the page.
To give you a sense of what this is all about, here's the opening paragraph, which introduces it well: "Many decades after the formal inclusion of women and minorities in the workplace, second-generation barriers to full inclusion endure. NYU School of Law Professor Kenji Yoshino and Deloitte University Leadership Center for Inclusion Managing Principal Christie Smith, Deloitte LLP, have co-authored a white paper, "Uncovering Talent," that offers a new approach to achieving inclusion. They suggest that current inclusion initiatives often implement formal inclusion without examining how that inclusion is conditioned on burdensome assimilation. To address those conditions, the authors focus on the issue of "covering" – the process through which individuals downplay their differences, often at great cost to their sense of self1 to be included the workplace. Expanding on Yoshino's groundbreaking work in his book Covering, the white paper examines how individuals cover along four dimensions:
Appearance: Individuals may blend into the mainstream through their self-presentation, including grooming, attire and mannerisms.
Affiliation: Individuals may avoid behaviors widely associated with their identity, culture, or group.
Advocacy: Individuals may avoid engaging in advocacy on behalf of their group.
Association: Individuals may avoid associating with individuals in their own group."
This is truly a most eye-opening study. I promise you it will blow your mind!
Question:  Let me hear your thoughts on the above items as a way to share and gain new perspectives.