Oct 17
1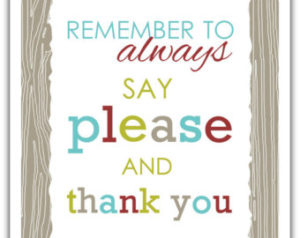 Despite the notion that some of these phrases might sound old-fashioned, it's still important to say "please" and "thank you." These are society's pleasantries that keep our friendships and relationships with others cordial and respectful. Without them, we might react unfavorably towards others over time.
This month's tip is simple reminder on how important it is to say "please" and "thank you" for anything we ask for and receive from others.
In going online I found two fun tunes to reinforce the point:
1.  Barney (the purple/fusia Dinosaur) – Please and Thank You Song

(Also at: https://video.search.yahoo.com/video/play?p=please+and+thank+you+lyrics&vid=7d6387c4b71a2bb7c90ab0c22adc7900&turl=https%3A%2F%2Ftse4.mm.bing.net%2Fth%3Fid%3DOVP.jn-rYJ3kamUb5q3zu1aDmAEsDh%26pid%3D15.1%26h%3D225%26w%3D300%26c%3D7%26rs%3D1&rurl=https%3A%2F%2Fwww.youtube.com%2Fwatch%3Fv%3DD3CgwV3o7AM&tit=Barney+-+Please+and+Thank+You+Song&c=2&h=225&w=300&l=71&sigr=11b0u0cnv&sigt=112o39kvm&sigi=12rdutgtg&back=https%3A%2F%2Fsearch.yahoo.com%2Fyhs%2Fsearch%3Fp%3Dplease%2Band%2Bthank%2Byou%2Blyrics%26type%3Dlvs__webcompa__1_0__ya__ch_WCYID10120__170324__yaff%26hspart%3Dlvs%26hsimp%3Dyhs-awc%26fr%3Dyhs-lvs-awc%26ei%3DUTF-8&sigb=15b1a7033&ct=p&age=1323551960&fr2=p%3As%2Cv%3Av&hsimp=yhs-awc&hspart=lvs&tt=b
Here are the lyrics to the song so you can learn this fun song yourself. (Also at:  http://barney.wikia.com/wiki/Please and Thank You)
2.  Another fun tune is from Little Mandy Manners, with her own Please and Thank You song. The song is easy to learn, because it's sung to the time-honored tune of "Oh Susanna", also at: https://www.youtube.com/watch?v=kOrC64u_Qjc).  Because I already knew the tune, I could sing along by the 2nd time I played the song… Try it!
Bonus 1: Don't you love the Internet for all you can find on any subject?  Here's another 10 fun items to keep in mind, whether in a classroom, work environment, or at home… Click on the forward button to run the slideshow…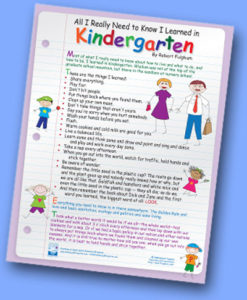 Bonus 2:  On a related subject, I recently heard a local politician share how he believes and practices the words from this poem, written by Robert Fulghum: Everything I need to know I learned in kindergarten. (Also at:   http://www.advancedetiquette.com/2010/10/kindergarten-etiquette-for-life/
How right he is about how great it would be if we all followed these simple words in all we do.   The world would indeed be a better place in which to live.
Happy Practicing!