Special Report Request
Thank you for the decision to receive our Special Report on 8 Top Faux Pas, Bloopers and Blunders When Meeting People for the First Time.
Please complete the form to the right to receive the report absolutely free at no charge which will arrive through an email PDF link.
NOTE: Be sure to approve Info@AdvancedEtiquette.com so our message won't end up in a spam folder.
By sharing this article, we hope you will see what great information we provide and will subscribe to our complimentary Etiquette Tip of the Month newsletter where tons more tips, skills, and information on international business protocol and social etiquette is presented.
See what you've been missing at www.AdvancedEtiquette.com/blog and enroll at the upper right box on the blog page… or directly at www.AdvancedEtiquette/subscribe. We want to welcome you into our happy family of nearly 9,000 happy subscribers worldwide!
For information and questions on all our services, including tailored corporate and group seminars, private briefings, and programs for youth and teens, and more, please contact me at 415-346-3665 or at Info@AdvancedEtiquette.com. I'd enjoy hearing from you.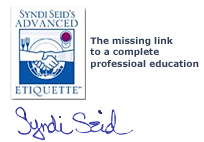 Founder & Director