May 11
19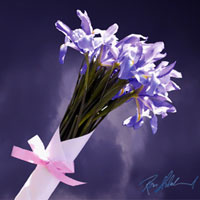 Thanks to an abundance of winter (and spring) rains, beautiful flowers are bustin' out all over. All this color in the garden inspires me to bring blooms inside as well. To complete my two-part series on the saying, April showers bring May flowers, (see the April tip "Umbrella Etiquette"), here are seven tips on the etiquette of flowers:
1. Choose the Right Flower: Various cultures have assigned special meanings and superstitions to specific flowers. Too numerous to list here, find a lovely chart showing the name, meaning, and photos of flowers from A to Z at http://www.couplescompany.com/Features/Flowers/1.htm. Bookmark this site so you will always know the flower with the right meaning to give for every occasion.
A great article "How Well Do You Know Your Floral Etiquette?" by LD Lewis is at http://www.couplescompany.com/Features/Flowers/default.htm. It describes several meanings to various flowers, including a most interesting one, called Shepherd's Purse, described as ".the ultimate gift to a woman from a man as it says, 'Everything that I am and everything that I own I give to you.'" Boy! My first reaction was I've got to get my husband to give me this flower. However, when I looked it up (under "E" for Everything), I discovered to my surprise it was nothing like what I envisioned to be a beautiful, delicate flower. Believe it or not, it's a weed!
2. Know Your True Flower Colors: Along with the type of flower itself, choosing the right color is equally important. Flowers such as daisies, carnations, and chrysanthemums, come in many colors. When giving flowers as a gift, be sensitive never to give white flowers in Asia and most other countries, as it symbolizes mournful and unhappy occasions, because white is the color worn and used at funerals. In Asia red symbolizes life and happiness. On the other hand, in Mexican folklore, red flowers cast spells and white flowers lift spells.
3. Give the Correct Number of Flowers: Also consider the number of flowers you give, as what is appropriate varies from place-to-place. In the U.S. a dozen flowers is appropriate and customary. In Europe and elsewhere even numbers are considered inappropriate. Almost everywhere, the number 13 is considered unlucky. In parts of Asia, never give a gift having an association with the number 4 (it sounds similar to the word death). Giving a single flower is generally reserved for lovers.
4. Present Flowers with Panache: In most countries, it is the custom to present a bouquet of flowers unwrapped, to display its full beauty upon presentation. When taking flowers to others (to a party or hospital, for example), giving a bouquet is on my list of gifts to avoid. It is often disruptive to the party host and in many areas of the hospital are not allowed. Here are two alternatives to consider: Bring flowers already displayed in a vase of their own, or arrange for a floral arrangement to be sent ahead. For a party, contact the host/hostess ahead of time and ask for their favorite florist, what colors are best, and if he or she has any preference on the kind of flowers they like. I promise this is one gift everyone will enjoy and remember. Sending flowers a day after a party is a wonderful thank-you gift. Be sure to check with the hospital about their flower policy before bringing or sending flowers.
5. Know that Flowers are Appropriate: Many funeral and memorial service announcements list charity donations in lieu of flowers. It is important to respect the family's wishes in this regard. It is appropriate to send the family flowers to their home a day after the service as a nice gesture of sympathy.
6. Be an Equal Opportunity Flower Giver: Men enjoy receiving flowers, too. The difference to keep in mind when presenting flowers to men versus women is in what kind of flowers you give, in what colors, and how they are presented. Keep to stronger, dominant colors, such as yellows and oranges. Do keep the wrapping simple, avoiding lots of ribbons, bows, and frills. While in the U.S. it is customary for flowers to be given by couples, by a woman to another woman, and by a man to a woman… with the emergence of equality, it is no longer inappropriate—thank goodness—for a woman to give flowers to a man. I enjoy giving men flowers.
7. Be your own secret admirer: Having a bad day? Celebrating a personal victory? Either way, give yourself some flowers. It is an indulgence that won't add body weight, affect your ability to drive, or break your bank account. I recommend it.
Bonus: No matter when the urge strikes you to give someone flowers, the one thing to keep in mind is never to steal them from your neighbor's garden.
What other items do you have to add to this list?  Do let us hear from you by entering your comments below.  You may also reach us at www.AdvancedEtiquette.com.  If you enjoyed this article and want more, subscribe to our "Etiquette Tip of the Month" newsletter—at no charge—filled with great monthly tips on all sorts of topics from international business and social etiquette and protocol to everyday life subjects.  It will be great to have you as a member of our happy family of subscribers at www.AdvancedEtiquette.com/subscribe
Happy Practicing!