Jun 11
17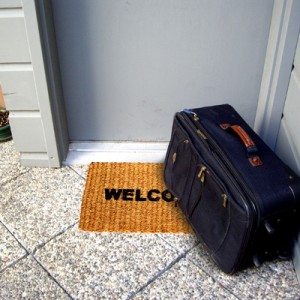 Summer is the most popular vacation season. For many people, a vacation includes spending treasured time visiting friends and relatives around the country and around the world. Employ these simple tips to be an outstanding houseguest and ensure both you and your hosts will enjoy your visit and they will want you back again someday:
1.  Bring a "hostess" gift: Even when staying just one night, always present your host with a house gift shortly after your arrival. Good gift ideas include attractively wrapped kitchen tools, a book, candles, a collectible your host will treasure, and specialty food and wine you know they will enjoy. The main criteria should be that it be something your host will appreciate.
2.  Make yourself useful: Offer to help with meal preparation, doing dishes and other chores as though you were a member of the household. Do not expect your hosts to wait on you hand and foot throughout your stay. A nice gesture during an extended stay is to treat your hosts to dinner at a nice restaurant or cook them dinner at home one evening.
3.  Be flexible about foods and eating times: Except for medical and religious restrictions, avoid dictating meal times and what your hosts serve. If you do have food restrictions, let your hosts know with a simple note prior to your arrival. If you have special food or beverage needs, bring these items with you.
4.  Keep your space tidy: Make your bed each day, keep your belongings put away and leave the room or sleeping area in neat order at all times. Because guest spaces are often used by the family for other purposes, leave your door ajar when not in the room, so your hosts know you're not there and can access the room when necessary.
5.  Be diligent in the bathroom: Never leave the bathroom in a mess. Wipe the sink and shower, neatly hang your towels and close the lid on the commode after each use. Review other tips on our blog, especially the "Etiquette Tip of the Month" on Bathroom Etiquette.
6.  Ask permission: If you want to use an item in the house, ask if its OK. Leave money for any telephone and other charges (including utilities) you may have incurred during your stay. Be sensitive to whatever guidelines your hosts may have for the use of all items in their home.
7.  Share your schedule: While you cannot expect your hosts to entertain you throughout your visit, a good host will feel a sense of responsibility for your well-being, and want to know when to expect you in their home. Provide your hosts your general daily itinerary—primarily when you may be expected to leave and return each day. Carry your host's home and business address and telephone numbers with you to keep in touch if you will be delayed or in case of emergency. If you have a cell phone, leave the number with your hosts too.
8.  Be grateful: And let your hosts know you are. Write a thank you note to your host upon your return home. Reciprocate in-kind whenever possible, by offering to host your hosts for a visit. When you make yourself an outstanding guest, you may often hear, "mi casa es su casa," my house is your house.
MOST IMPORTANTLY: Leave the space ready for the next guest. The day you leave, strip the bed, place all soiled linens and towels neatly in a pillow case and set the case near the laundry facilities. Re-cover the bed with the bedspread so it will look fresh until the next guest arrives. Finally, check the space to be sure you haven't left any personal items behind.
What other tips do you have to add to this list? Let us hear from you by entering your comments below.  You may also reach us at www.AdvancedEtiquette.com.  If you enjoyed this article and want more, subscribe to our "Etiquette Tip of the Month" newsletter—at no charge—filled with great monthly tips on all sorts of topics from international business and social etiquette and protocol to everyday life subjects.  It will be great to have you as a member of our happy family of subscribers at www.AdvancedEtiquette.com/subscribe
Happy Practicing!