Apr 13
2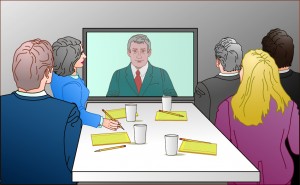 The hot new trend in meetings is video conference calls. Thanks to new advances in technology, this service is more affordable than meeting in person, and in many situations, it's free.
Before I dive into the eight best practices for producing and attending video conference call meetings, here are three articles to review on how to produce great meetings in general:
Business Meeting Etiquette – The Participant (also at http://www.advancedetiquette.com/blog/communications/business-meeting-etiquette-part-the-participant/
Business Meeting Etiquette – The Facilitator (also at http://www.advancedetiquette.com/blog/communications/meeting-etiquette-part-2/
Conference-Calling Etiquette (also at http://www.advancedetiquette.com/blog/communications/conference-calling-etiquette/
Now, let's get started. Here's what to consider for both before the meeting begins and during the meeting:
1.     Invest in a second camera or a moveable one. The best video conference call I ever attended did not use a static wall-mounted camera.  Instead, someone rolled one camera on a tripod around the room.  The camera operator could angle the camera for wider group shots, as well as point the camera toward each person, up close while speaking. Why was this great? There is nothing more boring than watching the same static screen over a long period.  Now that cameras are becoming more economical, consider a moveable camera.  If you already have a wall-mounted camera, consider bringing in a second camera to switch up, using for those closer shots when someone is speaking.  You'll produce a meeting that is almost as close to being in the same room—a primary goal of video conference call meetings.
 2.     Create name cards. Especially when conducting meetings among multiple locations, you need name cards: a) At the foot of the table or lower end of the screen to identify the location of that camera, such as India Office, Marketing Team, China Office; b) pre-printed —with both a first and last name—in big, bold letters (at least 40 point font size, filling the entire paper area) to help identify each participant and perhaps their title or company name when different.  Only two or maximum three lines of information is necessary.  Check just before the meeting to ensure all cards are facing the camera.
 3.     Put the facilitator and participants in the right place. Typically, facilitators stand at the far end of the table. Viewers see them at the top center of the screen, looking straight into the camera.  However, this also causes all participants to face away from the camera.  While unavoidable, remember that when participants speak, they should address the entire room and the camera. As the facilitator, if someone is only speaking to you, remind that person to face the camera.
4.     Check the room and equipment beforehand. At least 45-60 minutes ahead (because even 30 minutes could be to too short to handle certain situations that may arise, especially when multiple locations are involved among multiple countries) check out the conference room to ensure the seating arrangement will allow everyone to be properly viewed on camera, the equipment is operational and ready to go, and the camera operator knows the various features of the system before the conference begins.
When using PowerPoint, video or audio clips, check to ensure they are fully functioning and can be seen and heard by everyone in all locations. There is nothing more annoying than having to stop the meeting for "technical difficulties."
5.     Choose visuals best for the camera. Avoid using only black text on a white background. Over time they are glaring and hard on the eyes. Use other background colors such as blue, green, gray, or purple.  For each slide, use big, bold letters in a font size no smaller than 18 point that has no more than six lines of text per slide.
When using a marker board, use thick and wide dark colored markers, such as black, and navy blue.  Avoid using colors that may be hard to view by colorblind people, such as red, green and brown.
6.     Choose business clothing best for the camera too. Avoid large, bold, busy patterns (especially small or large stripes), and overly bright colors (including white) in clothing.  Also avoid dark bold colors such as solid black, red, or navy.  Instead, wear lighter shades, pastels, and muted colors. Great colors include pink, light blue, green, and fuchsia.  Avoid shiny jewelry and other accessories that will catch flashes of light and be distracting.  Think in terms of how television hosts and newscasters dress.  By dressing appropriately, viewers will not be distracted by how you look and focus on the content of what you're saying.
 7.     Make sure the room is neat. Typically, the entire room is visible to all viewers. Be sure the room is clean and neat. Avoid clutter such as boxes stacked up in the background, and messy lunch boxes, cell phones and sunglasses on the table.  Stick to uniform pads of paper and beverage cups.  Think in terms of staging a performance.
8.     When speaking, look into the camera:

Introduce yourself and look into the camera. If you are not within normal camera range or near a speaker box, move into range and speak toward the box. Designate someone at each location to serve as the camera and speaker monitor, to ensure people are seen and heard. If you are the facilitator, this shouldn't be yet another task for you to handle.
 Speak in a normal tone. Do not push or amplify your voice. Typically, the sound is already amplified to catch everyone's voices in the room. (For this reason, even the smallest noise, such as coughing, unwrapping plastic-wrapped candy, tapping a pen or finger, rustling paper and even whispered side conversations will all be picked up as background noise.)
 Remain as still as possible. Do not fidget, display repetitive nervous movements, or check your phone or email messages.
 Allow for delays. There may be split-second delays when transmitting over long distances and to other countries. Slow your speaking pace slightly to accommodate such delays, pause slightly between comments, and avoid interrupting another speaker. If you are a participant and want to speak, raise your hand to be recognized by the facilitator.
BONUS:  Especially important for facilitators:  Because you are facing viewers, whatever is to the left or right is actually the opposite for the viewer. Use words such as "my right" or "your left" whenever making such references.
Question of the month: What other great video-conferencing tips do you have to share?  Be sure to enter them here.