May 13
20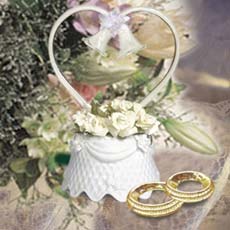 June is the most popular month for weddings in the U. S.  Each year I receive dozens of inquiries and comments on wedding etiquette, including horror stories. Here are my top eight tips to always be the perfect wedding guest.
1. Respond to the Invitation: The number one complaint I hear is how guests do not bother to RSVP. Respond within a week, or certainly by the due date. Do not assume folks know you are coming just because you mentioned it at a party.  Always call the hosts as soon as your situation changes. If you said you could come and can't, call them—even at the last minute.  In most cases it costs money to cover no-shows, so never let this happen.  It is a complaint I hear all the time.  Conversely, if you declined and find you can come, say so immediately—instead of becoming an unexpected guest.  For more, see "The Lost Art of RSVPs"
2. On bringing additional guests: Pay close attention to exactly how the invitation is addressed and worded. If you see only your name, it is not appropriate to bring additional family members or guests. No exceptions! If it includes other names, such as "and family" or "and guest," list all names on the response card. "And guest" means you may bring one person. Never show up with more guests than originally listed on the invitation and your response.
3. A wedding gift: Send a gift ahead of time or bring it on the day of the wedding. Feel free to ask if gift registries were established to help you choose an appropriate gift. If you do not plan to attend, it is not necessary to give a gift. However, it is considered a nice gesture. Traditionally, you have up to one year to send the gift. Today, I recommend you do it within six months.
4. What to wear: Proper attire never includes blue jeans, casual clothing or sports attire. This is a time to dress up in honor of the occasion. Choose clothing that will not overshadow the wedding party, such as wearing white (or red in certain cultures). A coat and tie is best for men. Women should wear a day or evening suit or a dress. If the invitation states black-tie or other specific attire, men must wear a tuxedo or dinner jacket. Women's attire for black-tie events generally means wearing a full-length dress or pants suit, or an outfit that will be appropriate to the time of day and location.
5. Getting to the wedding: Guests provide their own transportation and lodging. You may inquire about nearby hotels, when unfamiliar with the area. Relatives and close friends should not expect to have travel expenses paid.
6. Arriving at the wedding and seating: Arrive 10 to 15 minutes before, or on time at the very least. If the bride is already walking down the aisle, wait outside until the ceremony begins. If you arrive after the ceremony starts, walk to an outside aisle and take a seat quickly and quietly. Traditionally, the bride's side is the left and the groom's to the right. Jewish weddings are the opposite. Today there is less concern about where guests sit.
7. During the wedding: You do not have to participate in any religious rituals conducted during the ceremony. Being a respectful observer is all that is expected. If you did not RSVP to attend portions of the wedding, such as the wedding banquet, do not expect to be allowed in at the last minute.
8. When not attending: Even when you are unable to attend, you must respond to the invitation! Regarding sending a gift, see #3 above.
If you have questions about or comments to share on this topic, please send them to me. I'd enjoy hearing from you or post a comment on my blog.
Happy Practicing!