May 16
1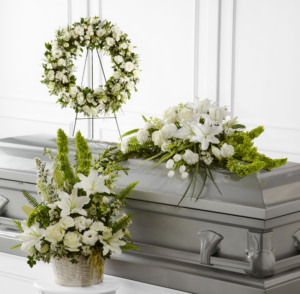 It's often interesting how end results come about because of a series of situations having taken place. This May tip is such an example:
• I received a request from a funeral home in the UK, asking for permission to use content from an article I wrote on Funeral Etiquette. I happily granted permission and thought their infographic was terrific so in return asked for their reprint permission to share in a newsletter… See the Funeral Etiquette Infographic here, by clicking on the top image to view them all in a larger format. (Also at: https://www.rhcfunerals.co.uk/wp-content/uploads/2016/01/Funeral-Etiquette-Infographic.jpg)
• This naturally led me to looking up my old article on Funeral Etiquette which I am also attaching as a reminder (Also at: http://www.advancedetiquette.com/2010/08/funeral-etiquette/)
• Then, in combination with this month being May, with the saying of "May Flowers" meaning Spring is in full bloom and the article I wrote on Flower Etiquette, (also at: http://www.advancedetiquette.com/2011/05/flower-etiquette/), Voila…it popped into my head to do an article on Flower Etiquette for Funerals for this May tip!
1. Make sure flowers will be well received. Not all cultures and families prefer flowers for the funeral or memorial service. Find out before you send. Also research which types of flowers and which colors will be best received. In Asian cultures, they will not appreciate red roses. White is the color of choice, followed by yellow.
2. Keep it simple. Do not send flowers that have lots of bright colors and extra attachments, such as balloons or small animal inserts, even for a child. Flowers are to convey comfort and a sweet fragrance to lift the spirits of those in the room.
3. Be culturally aware. Not all faiths and cultures observe the same practices. Make sure you know what is appropriate before sending any flowers. Here are a few examples:
o Catholic, Protestant Christian, and Buddhists accept flowers and arrangements.
o Never to include a cross or crucifix on flowers to Mormons.
o Buddhist and Asian cultures, and Greek Orthodox prefer white flowers.
o Jews prefer that flowers be sent to the home only, not to the funeral home, with the exception of some flowers from close friends and family, which may be displayed in the lobby of the synagogue.
o For Hindus, flowers are less common. They prefer garlands at the funeral.
o For Muslims, their preferences vary among Islamic religions. It is best to ask whether to donate to a favorite charity in lieu of sending flowers.
4. Leave it to the experts. Knowing what's appropriate to send is not an easy task. Chose a florist who is knowledgeable about funeral and sympathy flowers. Tell the florist how well you knew deceased, if you are a relative, how close you were in your lineage; the ethnicity and culture of the deceased; and whether the deceased observed any specific religion or faith. Give the florist a price range you can handle.
5. There's a difference between funeral versus sympathy flowers. Funeral flowers are meant to be displayed at the service. Sympathy flowers (arrangements or plants) are generally smaller in size and sent to the home or an office. When sending sympathy flowers the key is to send smaller bouquets or arrangements, so as not to disrupt the workplace.
6. Verify what will be appropriate for co-workers and business associates. Sending a small floral arrangement or plant to the person's office on the day of their return can be a nice gesture to uplift their spirits. Just be sure to verify culturally it will be well received. Learn what will and will not be appropriate to send, as in the color and type of flowers.  Again, consult your florist.
7. Enclose a  note. This could be the most important part to sending flowers. If possible, visit a nearby florist to order your flowers, so you can send a handwritten note, versus having the florist write it for you.
8. When making a donation instead, send a note. These days, people from all faiths and cultures ask for a donation to a favorite charity of the deceased instead of flowers. In this instance, typically only the immediate and extended family provide flowers for the funeral, with all others encouraged to donate to the charity. Along with sending the donation, do send a handwritten note to the family to tell them what you've done and to offer your condolence. The charity may or may not provide this service in alerting families back when donations are received. Either way, they will appreciate hearing from you.
QUESTION:  Do you know of other funeral flower etiquette tips from your culture or faith?  Please share them here. There are many subtleties we all could learn.