Aug 10
16
As I mature (versus getting older) the death of someone I know or love becomes increasingly heartfelt and difficult. In this past year I have attended more funeral services, memorials, and celebrations of life than I care to think about. Yet, with each event, certain situations have revealed themselves; crying out for me to write about. Let the following be a wake up call on how to attend wakes, funerals, and other memorial services, to care and respect:
1. ARRIVE ON TIME. At every funeral I attended, more than a handful of guests arrive long after the service begins… even when the service was already delayed in starting. This is totally unacceptable. It is each guest's responsibility to arrive on time. This means taking into consideration the availability of parking and any unforeseen traffic delays.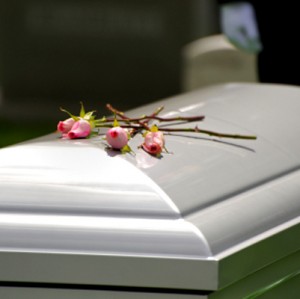 It is not acceptable to say you were delayed due to a ball game. My husband Ron keeps both the S.F. Giants and 49er at-home schedules on his bulletin board to check whenever we must drive past the area of the ball park to reach an event or appointment. It is all about caring more about others than yourself. Being late shows your lack of respect and selfishness. Arrive no closer than 10 to 8 minutes ahead of the appointed time. If you do arrive late, be quiet in all you do. Do not hold conversations with other guests. Respectfully wait until an appropriate break in the service to enter the room to take a seat.
2. TURN OFF YOUR CELL PHONE. A while back, I attended a funeral where at the beginning of the service, someone's cell phone sounded. The person allowed their cell phone to ring all four times-through to voicemail-before it became silent. Now, you would think this was a wake-up call to other guests to check their phones. Unfortunately, four other cell phones rang, the last of which was during the final prayer. Need I say more? Make it a habit to check and turn your cell phone to silent, vibrate mode, or off before entering any meeting, restaurant, theatre, or event.
3. WEAR PROPER ATTIRE. In Western culture, the proper color to wear at funerals has been black. While black is still best, especially for the immediate family of the deceased, guests have more options. They should still wear subdued, conservative clothing that is respectful to the event. Wearing jeans or the same clothes you would wear to a back-yard barbecue shows a great lack of care and respect for the person who has died, their family, and others. Everyone should have at least one nice set of clothes to wear for special occasions.
Colors to avoid include red, orange, and yellow and anything that has bright and cheery flowers or other bold and loud patterns. Wear clean, neat, well-pressed clothes. Men should wear a dark jacket with dark slacks, dark dress shoes, white or plain solid colored shirt, and a subdued tie. For younger men, the minimum should be a well-pressed solid-colored shirt, slacks, and dress shoes. Women should wear a dark or black suit, pant suit, or similar outfit that is subdued.
The key here is to have at least one good set of clothes for occasions like these. If you don't, buy something… even at Goodwill. Never wear the same old wrinkled shirt, blue jeans, flip-flops, sandals, or sneakers. One of my pet peeves is how parents allow their children to wear sloppy clothes and jeans to special events such as weddings and funerals, rather than appropriate clothing.
4. SEND A MESSAGE OF SYMPATHY. It is often awkward to know what to say to a parent, spouse, or other immediate family member when someone passes away. It's always nice to send a message of sympathy, whether by email, fax, or by regular mail. It shows you care and are sympathetic.
Unless you are part of the family and are extremely close, do not call them… especially between the death of their loved one and any service or event being planned. It is an extremely stressful period. Emails and messages sent by regular mail are much less intrusive.
When expressing your feelings, be genuine with your words. Do not sound like you are using "canned" phrases copied from a commercially printed sympathy card. Among the phrases to avoid are:
— It's awful, but when your time is up, it's up
— I know how you feel
— Be sure to stay busy, they say it is the best way through this
— At least he went peacefully
— Know that he's in a better place now
— You must stay strong through this
— This was probably a blessing in disguise rather than to continue suffering
— At least he is no longer in pain
— It's truly sad he died so young
— Only the good die young
5. SEND A GIFT OR CONTRIBUTION. Historically flowers have been the tradition to send to bereaved family's home or funeral home, today if you wish to express your feelings beyond a written message of sympathy, do not automatically send flowers for the funeral or a live plant for the person's home. Instead, contact the funeral home or a family member to confirm this is something they will prefer and enjoy. Many people now choose donations to their favorite charities, over flowers.
6. RESPECT THE FAMILY'S WISHES. Do not criticize the process leading up to the funeral or the event itself. Rituals and styles have shifted in recent years whereby they are not as formal or ritualistic as in the "old days." Families may choose not to adhere to certain historic customs. Focus on the positive aspects, not the negative.
7. OBSERVE CULTURAL, RELIGIOUS, AND OTHER PRACTICES. When invited to an observance for someone who is from a culture or faith with which you are less familiar, ask someone about it or go on the web to learn what will be taking place during the event and what you may be expected to do. Doing research will help you be more relaxed and comfortable when certain practices take place. By knowing ahead of time you can participate and enjoy the experience more fully.
8. BRINGING SMALL CHILDREN. If you choose to bring young children to a funeral, brief them ahead of time about the importance of what they are attending. Set aside practice time to learn how to whisper and sit quietly for long periods of time; to demonstrate to you that they are matured enough to attend this important event. Bottom-line is if your child is unable to whisper or sit quietly for 45-60 minutes at home, it may be best to hire a babysitter for a few hours, rather than cause disturbances at the event.
BONUS: For additional information, read "What Can I Say?", an article on how to support the grieving. It is on the Web at: http://russmonroes.com/what-can-i-say/
Question: What other items do you have to add to this list? Do let us hear from you by locating this article at www.AdvancedEtiquette.com/blog. You may also reach us at www.AdvancedEtiquette.com. If you enjoyed this article and want more, subscribe to our "Etiquette Tip of the Month" newsletter—at no charge—filled with great monthly tips on all sorts of topics from international business and social etiquette and protocol to everyday life subjects. It will be great to have you as a member of our happy family of subscribers at www.AdvancedEtiquette.com/subscribe.
Happy Practicing!